ED SHULTS CHEVROLET CADILLAC COMMUNITY PAGE - JAMESTOWN, NY
Whether it is buying or maintaining a car, or ensuring access to quality medical care, Shults Auto Group has a clear message: We've got you covered.
On Tuesday, the auto dealership announced its contribution of $250,000 to the WCA Hospital's capital campaign for its new emergency department.
"To be a great community, you must have access to great health care," said Tim Shults, owner and president of the auto dealership. "I believe it is for this reason that Shults Auto Group and the Shults family is making the most meaningful pledge of community support in its history."
He said Jamestown was at a "pivotal point," in which the addition to the hospital underscores the city is a "healthy community with great leadership."
Betsy Wright, president and CEO of WCA Hospital, confirmed the emergency department is a worthy cause. The department admits 39,000 patients annually from the region, she said, and about 75 percent of all recipients of inpatient care begin their hospital stay in the emergency room.
"When we look at national benchmarks for quality, WCA always ranks very, very high, and we are in the top 10 percent of hospitals for those indicators. And that care begins in our emergency department," Wright said.
The "incredibly important gift" from Shults Auto brings the total fundraising to $13.3 million, she added. "The community has been very supportive of the capital campaign."
After a long period of fundraising and planning, Wright announced the beginning of ground work to build the new hospital wing. The foundation should be laid in four to six weeks, after the demolished South Building is cleared from the site.
"If you drive by the hospital, you will actually see the physical signs of progress right now," she said.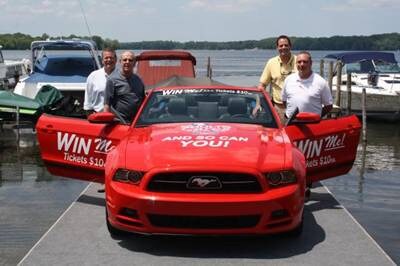 2013 FORD MUSTANG CHARITY RAFFLE
2013 Ford Mustang Charity Raffle
ON FRIDAY, JUNE 15 THE 2013 FO
On Friday, June 15 the 2013 Ford Mustang being raffled by Shults Auto Group to benefit WCA Hospital rolled onto the floating barge. It will remain there until the winning ticket is drawn on Labor Day Weekend at the DFT Communications Floating Stage.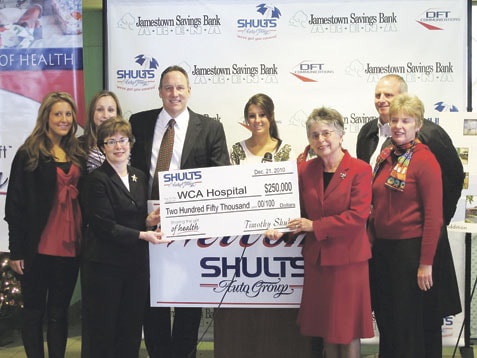 ED SHULTS CHEVY CADILLAC WCA DONATION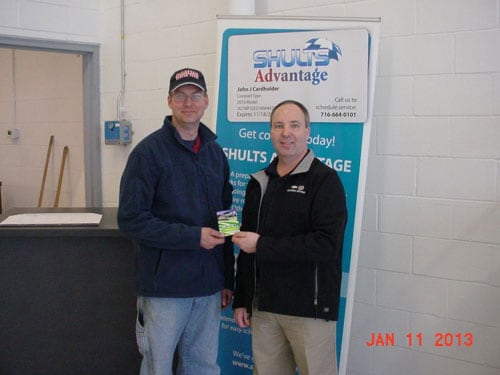 LUCKY WINNER AT SHULTS! $500 G
Lucky winner at Shults! $500 gas card winner Eric Yager
$500 Gas Card Winner