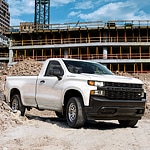 The Chevrolet Silverado 1500 LTD for the 2022 model year features several exterior changes that result in a more stylish and modern look. These include a redesigned grille with a hexagonal shape and chrome accents, new headlamps with LED daytime running lights, and redesigned tailgates that are available with either standard or power-operated operation. The wheels have also been updated, and there are now three different designs to choose from 18-inch alloy, 20-inch alloy, and 22-inch polished aluminum.
The Chevrolet Silverado 1500 LTD is available in eight exterior colors: black, white, silver, gray, red, blue, brown, and green. In addition to these exterior changes, the Chevrolet Silverado 1500 LTD also features a standard sunroof, power-operated side doors, and a liftgate. The mirrors have been redesigned for improved aerodynamics, and the windshield wipers have been moved to the bottom of the windshield header to improve visibility in Jamestown, NY. As a result of these updates, the Chevrolet Silverado 1500 LTD has a more contemporary look that sets it apart from its predecessor.
Contact our team at Ed Shults Chevrolet today to learn more about the latest Chevy truck.