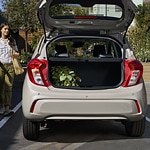 The Chevrolet Spark is a powerful and affordable car that is perfect for city driving. With its small size and great gas mileage, the Spark is perfect for those who want to save on fuel costs. It also has a number of great features that make it fun to drive, including a stereo system with MP3 player input and SiriusXM Satellite Radio.

Other features include:
- Bluetooth hands-free phone operation: With the Spark, you can make and receive calls without ever having to take your hands off the wheel. It's perfect for those who want to stay connected while on the go.

- OnStar: This system provides turn-by-turn navigation, emergency assistance, and more. It's a great way to stay safe and connected while on the road.

- Keyless entry and start: The Spark comes with keyless entry and start, so you can get in and out of your car without ever having to fumble for keys. It's a great convenience that makes life easier.