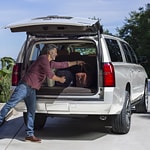 Purchasing a Chevrolet Suburban from Ed Shults Chevrolet means getting a vehicle that is designed to be both heavy duty and sleek. Both the exterior and the interior of the vehicle feature design elements intended to make the vehicle powerful and comfortable.
The Chevy Suburban has three rows of seating and front seats with 12-way power. The front seats are also heated and ventilated. With these seating arrangements, the Chevy Suburban will be comfortable for both the driver and passengers.
Skid plates are another important design feature that are part of the Chevy Suburban. Skid plates are an important part of the vehicle's design that helps to protect the undercarriage of the Suburban from damage. This is especially helpful if you plan on taking the Suburban off-road. The front of the Chevy Suburban also has active front grille shutters. This aspect of the design reduces the overall drag of the vehicle and decreases engine warm up time.