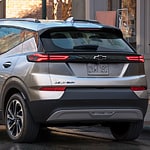 Chevrolet is at the forefront of electric vehicle technology, and they have recently released the all-new 2022 Bolt EUV. This car is packed with cutting-edge features that make it a great choice for those looking to get into an electric vehicle. Here are some of the top technology features of the Chevrolet Bolt EUV:
-Futuristic design: The Bolt EUV has a very sleek and futuristic design that is sure to turn heads. You will definitely be noticed when driving this car!
-Advanced safety features: The Bolt EUV comes standard with many advanced safety features, such as automatic emergency braking and lane keep assist. This car will help keep you safe on the road.
-Long range: With a range of up to 250 miles on a single charge, the Bolt EUV can get you where you need to go without any range anxiety.
-Fast charging: The Bolt EUV can be charged up to 80% in just 30 minutes, so you can get back on the road quickly.