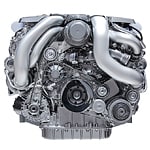 A vehicle's cooling system consists of the radiator, the coolant reservoir, the water pump, the thermostat, and connecting hoses. Routinely visually inspecting the system enables owners to detect possible signs of trouble before major problems arise. Otherwise, damaged hoses, coolant leakage, or other symptoms may lead to engine overheating and expensive repairs.
According to the owner's manual a cooling system flush is recommended. The service is one of many that our Jamestown, NY Ed Shults Chevrolet technicians offer. The fluid in the system commonly becomes contaminated with debris particles, which pose a threat to the system and the engine. Removing and replacing the coolant ensures a longer engine life.
An overall system analysis is another service we provide to Mayville, NY vehicle owners. In this way, damaged or worn parts are promptly replaced before damage occurs. The system's thermostat may also need replacing depending on the vehicle's mileage. Replacing the part prevents being stranded on the side of the road with an overheated engine.